1 HP Pancake Air Compressor
With 2 Gallon Tank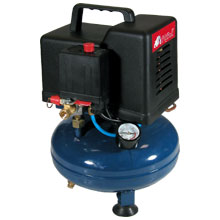 Portable, Light Weight yet Powerful!
Features a powerful, quiet, high-output pump
and a 2-gallon air reservoir for extra storage
during heavy-duty tasks.
MSRP: $139.99 Mini Compressor - Colors may vary.
Hey Guy's you know Girls like power tools too!!!
100's of Uses!
OUT OF STOCK
Shipping: Continental US $19.50 (additional units $10.00@)
This Tool is NEW in Box
1 Horsepower - 2 Gallon
Pancake Air Compressor
Features:
2 Amps -

Enameled Tank

Pressure Safety Valve

Air Outlet 1/4" NPT - Standard

Tank Size: 2 Gallon

Power Supply:110V/60 Hz -

Maximum Pressure: 115 PSI -

Air Delivery At 40 PSI 3.8 CFM -

Air Delivery At 90 PSI 2.4 CFM

Maintenance-Free

Direct-Drive Compressor Pump

Moisture Relief Valve

Built-in Pressure Gauge

Low Noise
Perfect for do-it-yourselfer projects and will save you time, energy, & $$$$$.
Great for all those honey-do's like sanding, airing up tires, toys, air beds, and using nail guns! Super item for Crafters. Small, Convenient, and Extremely Portable.
Powers a variety of air tools such as:
Brad Nailer

Paint sprayer

Drill

Nail gun

Die grinder

Cutoff tool

Air ratchet