1 Ton Capacity
12 volt Electric Winch
New in Box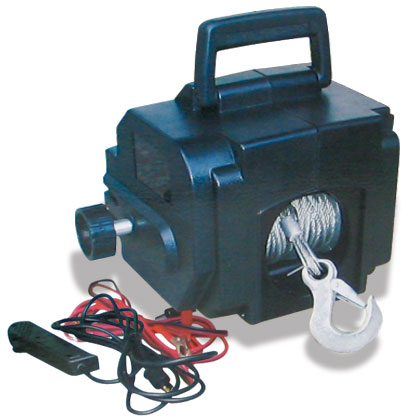 Compact yet Powerful
Useful for boat trailers, dry docks, engine pulling, general shop work, jeeps, ATV's, motorcycles, car trailers, and hundreds more options!
6000# rolling weight - 2000# Pull.
Colors may vary from unit shown.
MSRP $179.99
Shipping - Continental US only - $28.00
Perfect for boat trailer, shop work, 4x4 or many other tasks.
Whether you need to load that 4 wheeler on the trailer, get your ATV unstuck from a mud hole or just need some lifting power, this unit delivers for a fraction of retail cost.
Features:
Heavy Duty
Pull Cable Length: 49 Ft
Steal Braided Cable
Max Boat Size: 18 feet
Max Boat Weight: 5000 lb.
Line Speed: 6 feet/minute with Load
Battery Clamp hook-up
Hook Size: 3/4" Opening x 4" Long
Detachable Emergency Hand Crank
12 Volt DC operation (standard auto electrical system)
Remote Switch ( Cord Length: 9 Ft)
Mounting Base: 5-1/4" L x 4" W x 4-1/2" H
Capacity:
6000 lb. Rolling
5000 lb. Marine (Rolling Bunk)
2000 lb. Pulling Capacity
Includes instruction manual, power cables, pull cable, safety hook, remote switch, mounting plate, and emergency crank handle.
Clearance Price $59.95
OUT OF STOCK